Posted on October 29th 2014 by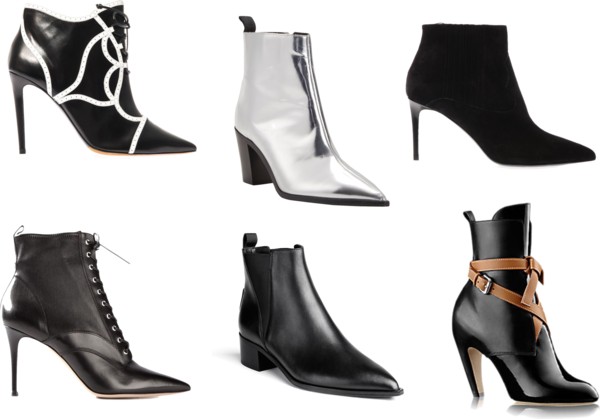 Every season, I have the tendency to indulge in a new ankle boot. This is only somewhat of a routine, for the simple fact that when I make a purchase of any shoe — I wear them almost everyday. Therefore none of my boots tend to last, and traveling back and forth to New York while living in New England doesn't do the heels much justice. As of late, I've been in search of yet another pointed toe ankle boot preferably in black of course. Surprisingly, I'd like to incorporate more subtle prints (i.e the Tabitha Simmons 'Tinsley' boot) or even a neutral metallic like the Acne Studios 'Loma' boot, because Scandinavian's just get it. What has caught my eye the most, are the 'Eternal' half boots by Louis Vuitton. A style statement of Nicolas Ghesquière's debuted at the first fashion show for Louis Vuitton, this half boot in plain and patent calf leather is embellished with a distinctive crisscrossing strap around the ankle. The innovative seamless heel construction demands a high level of craftsmanship. 
Searching for the right pair of boots can be a bit of a challenge per season, but if you know what shape is best essential to your lifestyle and wardrobe — then you're off to a great start. When you think about it, buying a new necessary pair of boots is similar to the anticipation of a one-night-stand. Let me explain. In the moment you think you need them and have to go home with them because if you don't — then, well you'll regret it. Oh, and let's not forget the walk of shame once it's all set and done. In this case in regard to shopping, the buyers remorse sets in and your bank account hates you for taking the sartorial plunge. See what I did there? It happens to us more than we'd like to admit, ladies. Before you even think about feeling ashamed, the Chicest Degree has curated the ankle bootie edit featuring the most wanted hardware-adorned styles of the season for your shopping pleasure.
1. Tabitha Simmons Tinsley leather ankle boots /2. Acne Studios metallic Loma ankle boots /3. Saint Laurent Paris western suede ankle boots /4. Gianvito Rossi lace-up ankle boots /5. Acne Studios Jensen leather ankle boots /6. Louis Vuitton Eternal half boots
Which ankle boots are your favorite? Tell me everything leave nothing out.

Share
Tags
RELATED POSTS
COMMENTS