Posted on January 10th 2015 by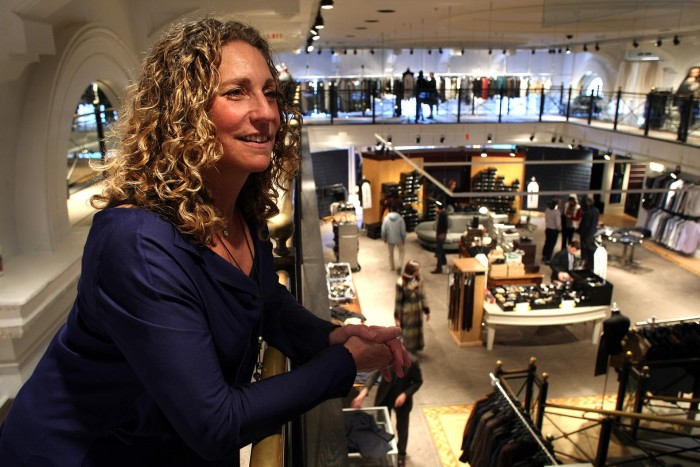 You know what they say, all good things must come to an end. Louis Boston, the high-end fashion clothing store that established the city's luxury retail scene, is closing in July. The store owned by visionary Debi Greenberg, opened its doors — with the aim to be recognized as a place that would be synonymous with impeccable taste, more than eighty-five years ago. Nearly a century later, the family continues to run the show generation after generation and the companies mission is still the same. Greenberg, continues to be a pioneer with her determination to discover the best designers from all over the world and bring them home to Boston.
Back in January of 2010, Louis Boston made what was considered a bold move by many when the business relocated from its historic Back Bay location to a less costly space at Fan Pier. The store dropped Boston from its name, grabbed salon Mario Russo, and renamed their acclaimed restaurant Sam's to connect with the modern customer, in an area that has since become populated by young people. Gambling through the recession, Greenberg believed that loyal clients would keep the business afloat in an area that was largely undeveloped at the time.
Widely credited by fashion insiders for continuously trying to broaden Boston's sartorial horizons — the merchandise isn't for them now, that's not who (the shoppers) are. It had to evolve in some ways and Greenberg did her best, which is highly admirable.
The evolution continues.
On behalf of Louis, Greenberg issued a statement stating, "Business is on point at our current location with steady year-over-year growth, but after twenty-five years of extensive travel to Paris, London, and New York five months a year in search of the world's finest clothing, it's simply time to change direction and turn my attention to projects and passions outside the retail arena." 
Known as the place to be when you want to awaken your senses, it's very hard to say goodbye. Not only did I have the pleasure of working for the company but I've always appreciated their effort to create a culture for individuals who're ahead of the curve by expressing that through their sartorial choices. Housing brands such as The Row, Balenciaga, Proenza Schouler, Marni, and Rosie Assoulin just to name a few — Louis will be greatly missed by the fashion crowd whom are a few far in between.
While we're still processing the news, what're some of your favorite Louis Boston memories? Tell me everything, leave nothing out.
Share
Tags
RELATED POSTS
COMMENTS