Posted on January 14th 2015 by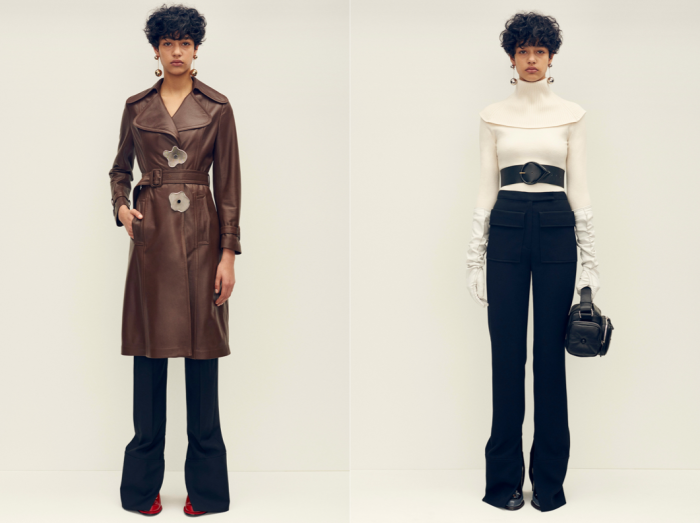 Jonathan Anderson's pre-fall collection put the focus on exaggerated silhouettes with a retro spin.  Anderson, is young enough that he didn't directly experience the eighties, let alone any of the other decades that the fashion crowd is cynically obsessed with. One might ask, where did the inspiration come from? Does it even matter? There was plenty in the lineup that embodied this sartorial creative process. Such as, the corduroy pants with the wide velvet cuff, which Anderson defined as "60s fabric, '70s pockets, and '90s style." Or the brown oversize mannish leather trench coat, paired with the navy blue baggy trousers — that was the perfectly odd combination of the boldness of the '80s and minimalism of the '90s. Known for the idea that nothing works well together, and when something makes you feel uncomfortable; you must resist the temptation to correct it. Nonetheless pure genius, and that thought alone is what continues to set Anderson apart every season.
Such a challenging declaration is typical of Anderson. It may not be one that makes for conventionally appealing clothing, but that's exactly what he's after.
It was obvious that the floppiness of shirt cuffs were highly mused. So, they were big on tops and even floppier when attached to the hem of trousers — which elongated them so they completely covered shoes with clunky heels. The layering was unconventional, but highly appreciated in which the basic turtleneck looks styled in such a refreshing and very french effortless manner. A few other highlights were — the Amal Clooney like white long leather gloves, chunky belts appearing in unexpected places, along with the ladylike leather box purses that will surely be a street style photographers favorite subject come next fall.
J.W. Anderson Pre-Fall 2015 collection photos via Style.com
Trust me, everything isn't for everyone and it takes a true fashion devotee to really understand his vision and appreciate the envelope Anderson continues to push. How uncompromising it all reads, the brand is slowly but surely turning into a cult following. You could never peg the J.W. Anderson woman as someone who is after the "designer, designer" lewks — because she wants what's new right now. This collection was just that, from the odd fabric combinations, peculiar proportions is what we'd like to consider is very, very new right now.
What're your thoughts on the collection? Tell me everything, leave nothing out.
Share
Tags
RELATED POSTS
COMMENTS