Posted on March 4th 2015 by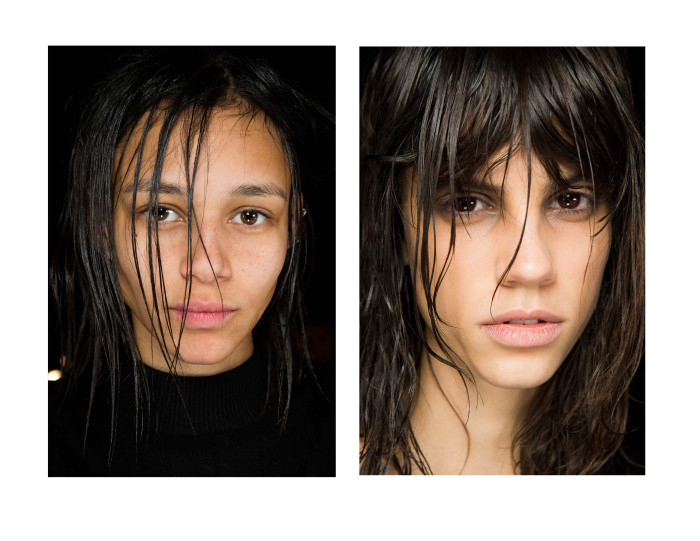 Continuing a hair trend from last season that I love, the beauty at Alexander Wang Fall/Winter 2015 show was nothing short of awesome. The girls had a cool and 'unbothered' look to them as they walked down the runway with wet locks and matte finished faces. Backstage Wang had mentioned, "Our costumer wants black, so why not do an all-black collection?" (via style.com) This made room for the coolest gothic princesses ever.
Each model had strands of hair effortlessly placed over their faces. Guido Palau of Redken said "the more individual the girls look for this show the better." To achieve this dark and greasy look, Palau used Diamond Oil Shatterproof Shine by Redken. The stringy and shiny shape looked sort of wind blown and mysterious. Kind of like they just came off of a stage after doing a serious heavy metal performance with a ton of head banging. Oddly enough, the hair still managed to look beautiful and delicate at the same time.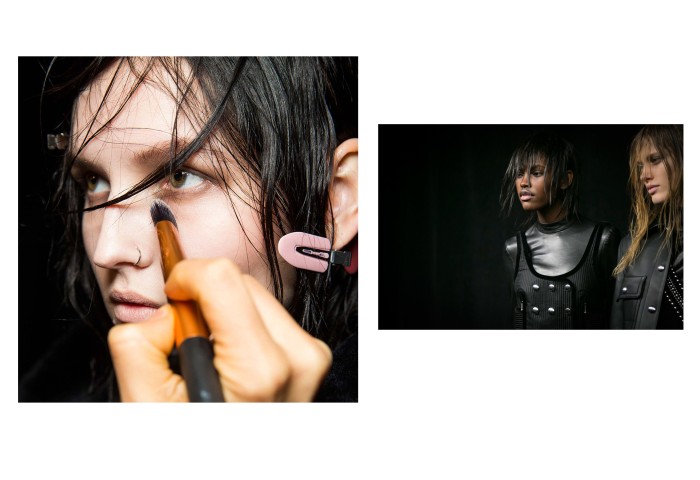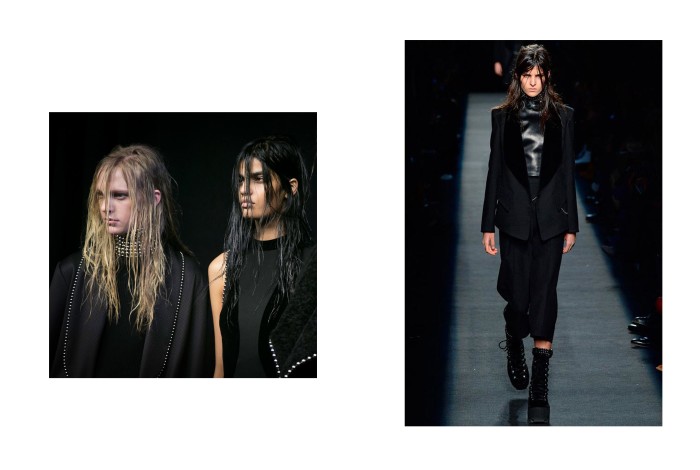 To match the gothic-chic locks, the makeup was pale and matte. NARS covered the makeup situation while makeup artist Diane Kendal used  Vientiane Matte Multiple, NARS Duo Eyeshadow in Bellissima, NARS Eye Paint in Transvaal and the new Aigle Noir Velvet Shadow Stick. (product list via intothegloss.com) The very hollow look of the eyes on the models was just right as it peered out from underneath the strands of hair, looking as dreamy as a "rock corpse" should. The reason I really liked the hair and makeup at this show is because it brought a total (and confusing almost) undeniable beauty. Wang's theme being a "rock & roll corpse" is definitely a darker inspiration, but this look was done as a beautiful stamp in time almost, as if a rock concert had a pause button and this was the result. It's the irony in this look that I love, the idea in which "dead" can be beautiful. Kind of like a disturbed beauty. I hate to say "unconventional," because that could describe many things in fashion but, unconventional in the most exquisite way possible.
The individuality of each girl was an exciting piece of this show that allowed the exquisite unexpectedness of this beauty look to really express itself. Small details like hairs being placed differently made each model their own masterpiece. It was like each of them came with their own wild story to tell. Most of all, this look made me have an imagination. It made me start thinking instantly when I saw it. This specific hair trend still has time left on the runways (I'm hoping) because every time I see it, I think about how many stories this look could tell.
Share
Tags
RELATED POSTS
COMMENTS