Posted on October 5th 2014 by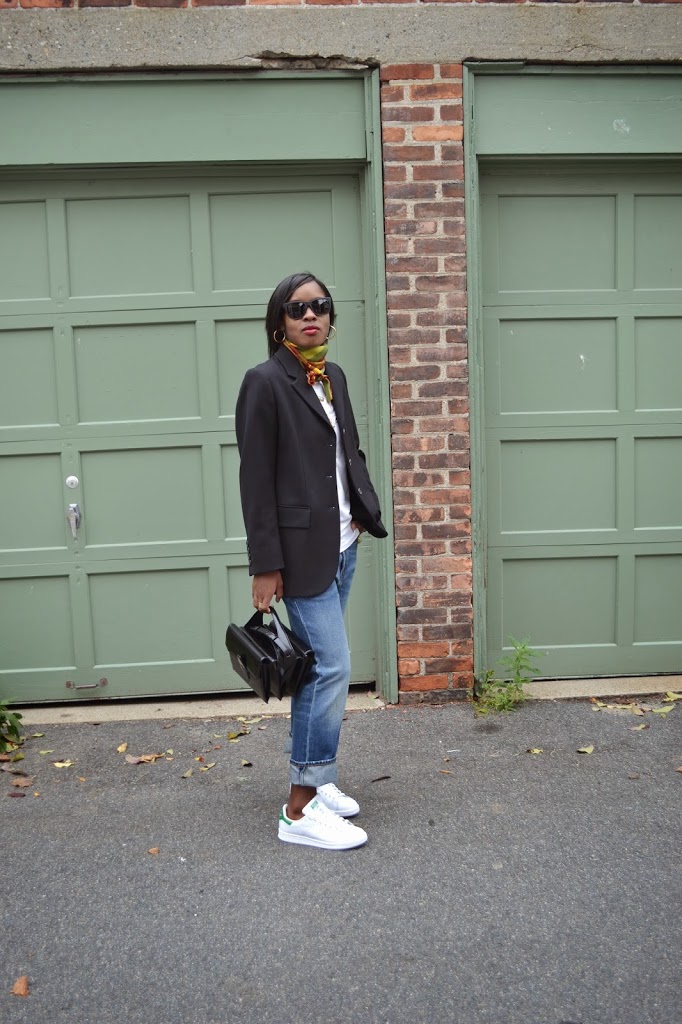 Dressed down, along with something tailored is what you'll most likely see me wearing a variation of almost everyday. (Okay I lied, more like everyday this time of year sounds about right.) Now that it's beginning to feel like fall — baggier denim, crisp white minimal trainers, and a tailored blazer, preferably in black are in full rotation. After spending the past few days rearranging the closet and doing an inventory of what is or isn't missing and everything else in between. I've come to the conclusion that season to season, we all have the habit of becoming extremely comfortable with certain pieces that we'll have no shame in wearing over and over again.
Another one of my longtime habits of wearing scarfs is slowing becoming a thing again. Back in college people knew me for the way in which I wrapped scarfs around my head. This was honestly something I did unintentionally, by running late per usual to an 8 A.M class and life in general — never allowed me the time in the morning to brush out my hair. Wearing a scarf in turban like form was something I became used to in the mornings semester to semester. Of course, I wasn't fooling any of my closest friends. They knew I was the only human on this earth that will never ever become good with time management. The other day I was watching an episode of Sex & the City and felt a bit nostalgic — when Carrie wore her scarfs wrapped around both her wrists. Feeling inspired, I searched around through a box full of vintage full scarfs and wrapped it around my neck, instead of my hair. It added the right amount of spunk to my very masculine yet casual ensemble. For once, I actually looked like a sophisticated adult, instead of a lady-boy lost in a surplus of oversize silhouettes.

Share
Tags
RELATED POSTS
COMMENTS