Posted on October 10th 2014 by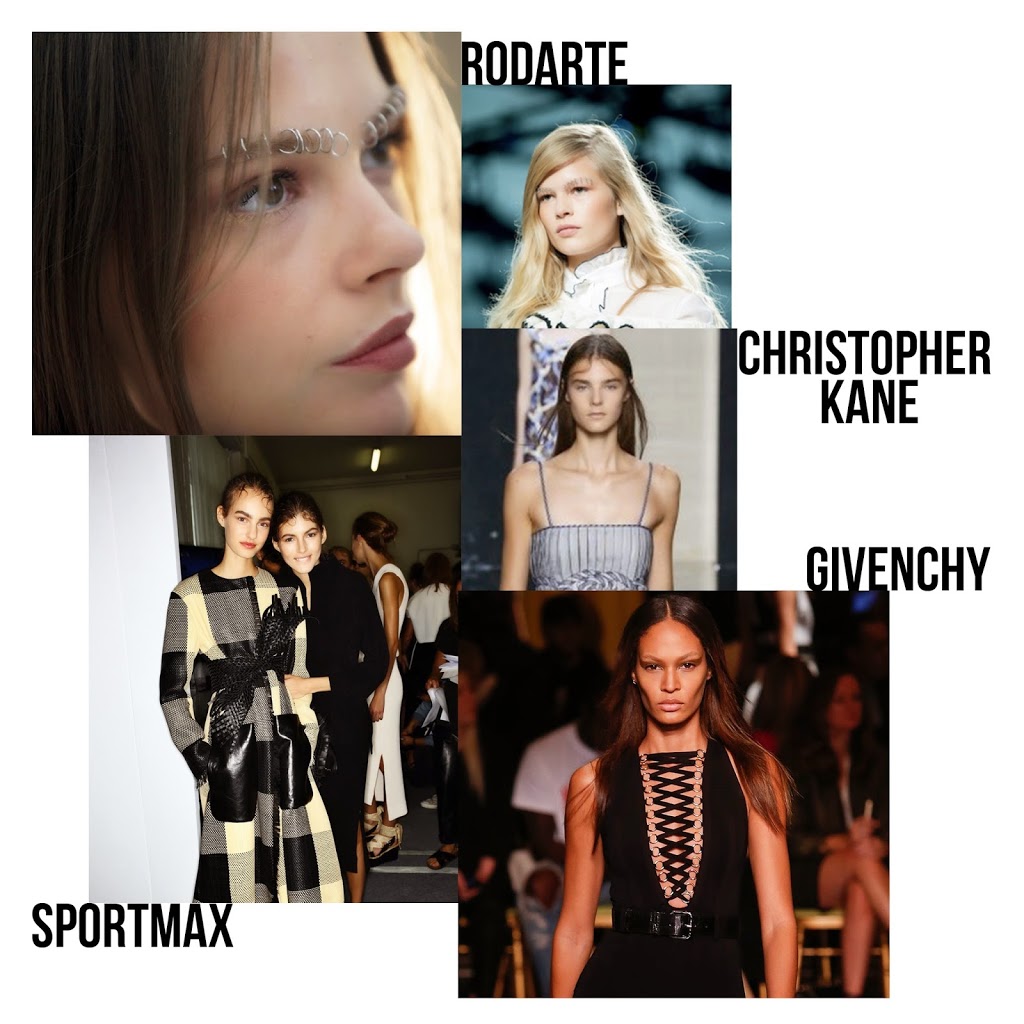 Although fashion month has officially ended, I have to say that my beauty obsession from the spring/summer 2015 collections lives in eyebrows and wet hair. Every season, we all have a little bit of beauty envy from the runway shows during New York, London, Milan and Paris fashion week. Of course, the beauty looks for spring/summer 2015 ranged from extreme in a good way as seen at Alexander McQueen, to very soft and feminine at Burberry Porsum, as they always do, but their was a great concentration of minimalism as well. This is where the girls I want to be inspiration stemmed from — that can be easily added to your beauty routine now and well into next season. 
Rodarte introduced an interesting way to spruce up your eyebrows, in case you were getting bored at NYFW. Which gave me complete piercing envy. Showcasing both eyebrows on the models completely covered in eyebrow rings, I would love to be as bad ass as these girls look. I'm not one to just up and get tattooed or pierced, but I think I have secretly always wanted an eyebrow ring. I love that the harsh piercings were paired with a simple side part and flowing locks. The skin was dewy and beautiful as the makeup artists used NARSSkin Luminous Moisture Cream followed by Radiant Cream Compact Foundation. Definitely a girl I wanna be, of course. 
Next, taking it to London, I have to agree with Chloé on her previous post about Christopher Kane. The minimalism in the hair is what made me praise them again. The cool strands placed effortlessly over the faces of the models and a strong brow is all I need.
In Milan, the girl I want to be is definitely the Sportmax girl. People often fight with their hair to slick it back, but the Sportmax girl just likes to let her flyaways stick to her face. I have respect for that, considering how many flyaways I actually have. The wet, strategically placed strands look is definitely growing on me I must say. If I were to execute this look or the Christopher Kane look, I would slick my hair with Oribe Gel Serum, then tame my flyaways and place them on my forehead also using the Gel serum for that wet, but beautifully placed stringy look.
J'adore les sourcils blanchis! French for, "I love bleached eyebrows!" Lastly, from Paris fashion week, Givenchy won my heart. Pat McGrath did it again with nymph-like winged eyeliner, super straight locks and my personal favorite the bleached brow. The appearance of the missing eyebrows makes everything so much more serious, and makes a runway squint look so official. Pat McGrath painted the pigment on freehand and mixed the colors herself for the severe effect (via style.com).  
These girls on the runway were bad ass, fearless, eyebrowless (in a good way), pierced, flawless, and have a killer squint. Why wouldn't I want to be them?!
– Written by Kayla Mayhew 

Share
Tags
RELATED POSTS
COMMENTS