Posted on May 12th 2015 by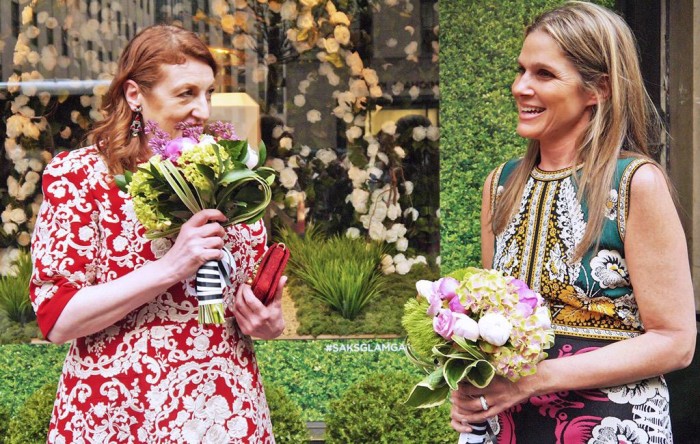 The fashion and beauty world's powerhouses opened the doors to Fifth Avenues most enchanting beauty garden. Harper's Bazaar's Editor-In-Chief Glenda Bailey, Aerin's Founder and Creative Director Aerin Lauder and Dior's Senior Vice President of Marketing, Tennille Kopiasz were on hand at the Saks Fifth Avenue flagship store to open its doors to the Saks Glam Gardens. This trio welcomed the masses to the floral filled window displays, featuring the world's most coveted beauty products.
The beauty-themed garden installations flourished in the windows displays surrounding the store and throughout the main floors threading through special events, while floral themes abound in the Glam Gardens catalog and on Saks.com.
"Through Glam Gardens we have created a breathtaking living tribute to Mother Nature," said Mark Briggs, Chief Marketing Officer, Saks Fifth Avenue. "Spring fragrance and color inspirations will be brought to life through blooming cascades of floral artistry. We hope to bring an element of delight to all who visit Saks this season."
Partnering with 35 beauty and fragrance vendors, Saks Fifth Avenue created individual gardenscapes within each window to be woven into a magnificent floral façade. Over 120 boxwood balls, ten full-grown climbing topiary trees, and more than 100,000 flowers helped create a captivating vision with each brand's aesthetic beautifully reflected. A vision of white roses and verdant greens will frame Rose de Grasse, AERIN's latest scent; an explosion of vivid purple splashed orchids will surround Dior's Miss Dior and a fantastical Viktor & Rolf Bon Bon factisse will be spotlighted in a sea of pink English roses. Like the store's iconic holiday windows each vignette will create a distinctive botanical world to inspire customers and create conversations.
We had the pleasure of joining Saks Fifth Avenue last week for an exclusive breakfast and tour of the Glam Gardens Windows and they really are breathtaking. Our favorite displays were Dolce & Gabanna, Chloè, Tom Ford, La Mer, Dior, and Chanel.
The Glam Gardens windows will be available for your viewing pleasure until May 26. What are you wait for people? Go check it out and let us know what you think and don't forget to use the hashtag #saksglamgardens!
Share
Tags
RELATED POSTS
COMMENTS