Posted on September 5th 2015 by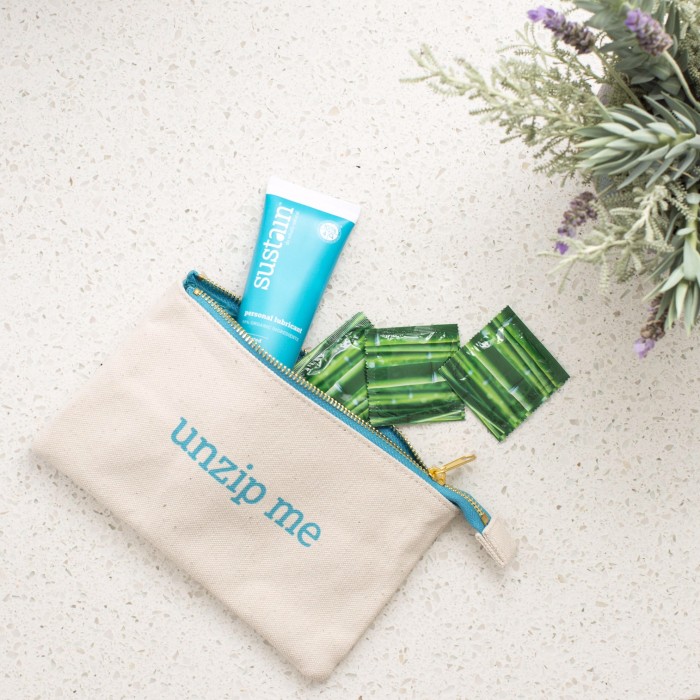 Sex is one of those awkward topics people don't like talking about, we'd rather feel a bit embarrassed than start a conversation about anything pertaining sexual health. When was the last time you read the ingredients on the back of a condom box or lubricant label? Can you recall the last time you and your partner purchased condoms at the pharmacy or discussed all the toxic chemicals and hormone disruptors found in most conventional brands? Don't worry, we're not judging you and to be completely honest; we haven't been paying much attention either. Until now.
For the conscious shopper, we turn up our noses at coffee that's not even certified fair-trade, regularly shell out serious cash at Whole Foods or Trader Joe's for organic produce, and categorically refuse to put any products on our faces that contain toxic ingredients with unpronounceable names such as phenoxyethanol or triethanolamine. But when it comes to the most intimate of products, like condoms, we seem fairly happy to be somewhat pretentious by ignoring all of the bad things that's going on inside (and that's if we're even using them.)
Most of us see condoms and lubricants as a grab-and-go type of purchase. Meika Hollender, the 27-year-old co-founder of vegan and eco-friendly condom start-up Sustain, did her research and saw them as a business opportunity. She teamed up with her father last year to start the all-natural condoms brand. Since then, Sustain has developed a cult following rapidly fast and these condoms wrapped like candy are becoming every girls best friend.
the Chicest Degree had the opportunity to chat with Meika about condoms, lubricants, and why it's important to unzip and #dowhatsnatural at our favorite healthy beauty store, Follain.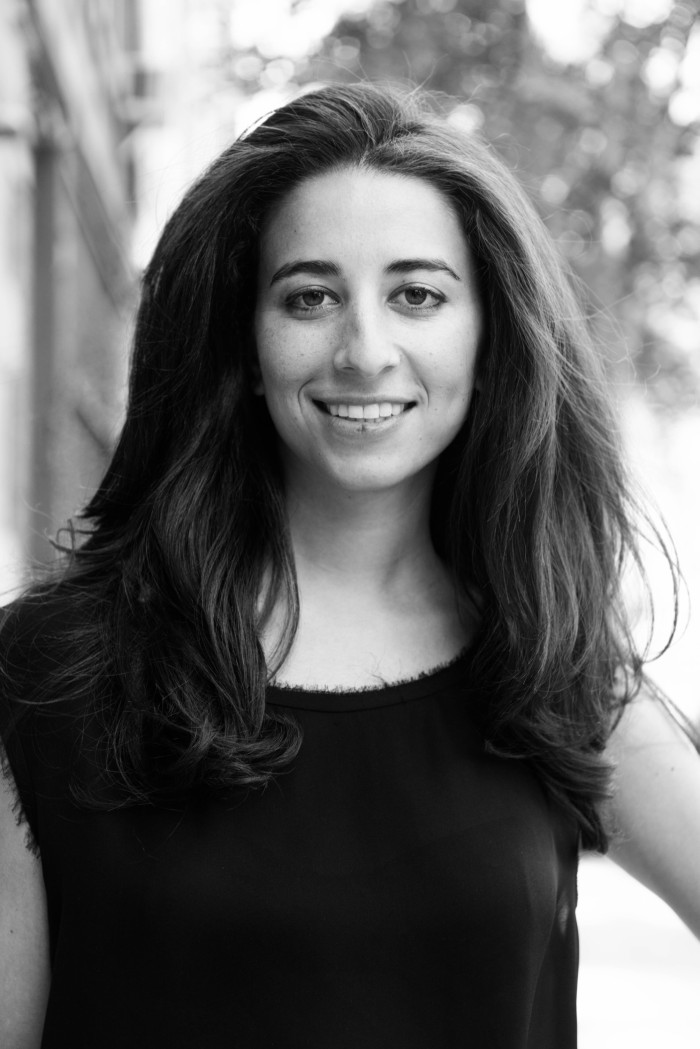 Where did the inspiration to start a sustainable product come from?
My family has actually been in the natural products industry for over 30 years! My dad, who is also my Sustain co-founder, founded Seventh Generation, the first brand of eco-friendly household and personal care products. With deep roots in sustainable brands, I always knew I wanted to work in this space. A couple years ago my dad approached me with the initial idea to start a sustainable and organic condom company, and together we came up with the concept for Sustain – a natural sexual wellness brand for women.
How do you create and source your products?
Each product is very different. Our condoms for example are somewhat complex. The natural latex comes from the only Fair Trade certified rubber plantation in the world, located in southern India. The condoms are also manufactured in an eco-friendly facility in India. Our organic lubricants are made and manufactured in the United States, along with our all-natural 'post play' wipes (launching this fall!).
As you can imagine, producing a product overseas, versus in the U.S., is a lot more complex and complicated. Therefore, the process for each product varies. In terms of how we innovate and develop new products, it's always based on an opportunity and a need that we see in the market. With condoms we realized there was no cool and conscious condom brand marketed to women. For the wipes, we kept hearing about the crazy things people used to clean up after sex and saw an opportunity.
Do you think woman care more about Eco-friendly condoms/LUBRICANTS since Sustain Condoms has launched?
I think women in general are leaning into the natural products movement. We care about what's in our products, and how the ingredients affect our overall health. It's no different with condoms and lubricants. These are products that are going into the most intimate parts of your body, and once people start to think about that, they quickly realize that doing what's natural in this category is critical.
How does your product differ from other condoms and lubricants out there in the market?
Condoms – Our condoms are the ONLY Fair Trade, Nitrosamine Free condoms sold in the U.S. That means that there are no children working on our rubber plantation where the latex is harvested, there are no harmful chemicals used in our manufacturing process, and there are no nitrosamines (a known carcinogen) in our condoms. They're also vegan, not tested on animals and non-GMO (we're a little over certified!).
Lubricants – Traditional lubricants are petroleum or silicon-based. As you can imagine, these are not things you want on and especially IN your body. These ingredients actually totally mess up the ecosystem of your vagina and make women much more likely to develop something called bacterial vaginosis (BV). Once you have BV, you're then 13x more likely to contract an STI. Crazy. Our lubricant is water-based, made with organic ingredients, and is free of parabens and glycerin.
What do you think makes woman the most insecure about buying condoms and carrying them?
It's a mix of so many things! For one, it's the patriarchal society we live in. In so many ways, women are hypersexualized – in the media, by brands, etc. Yet, at the same time, women are supposed to be prudent, and not be having casual sex. Up until last year in New York City, a woman could be arrested for suspicion of prostitution and condoms were used as evidence! All of this contributes to and highlights why women are uncomfortable buying and carrying condoms.
In what would be considered "the pull out" generation: How does Sustain Condoms continue to raise awareness about practicing safe sex and using sustainable products while doing so?
Well I think this term was developed to really describe what's happening with millennials and the pill/IUD/etc. What's happening is that since the #1 fear among 70% of straight single people is pregnancy, if someone is on the pill or has an IUD they are less likely to use a condom with their sexual partner. This is a huge problem, because STIs are alive and well (and herpes is forever!).
What we're doing is taking a new approach to the entire category: cool + conscious. The sexual wellness industry has been in need of a serious refresh for some time now – everything from the packaging, to the marketing to the values felt outdated. Sustain is the natural sexual wellness brand by women for women. We're about having open, honest conversations around sexual health. Our packaging is modern, and almost cosmetic. We talk about sex, sexual health, and sustainability in a way that no one else in this category is doing. It's about communicating with my generation in a way that they can relate to and from there we can educate them about issues that matter.
What's it like running a business with your father?
It's really an incredible experience. I get to work with and learn from a true pioneer of the natural products movement. In the beginning, when we just started Sustain, we worked a lot on developing boundaries, and figuring out how to translate our personal relationship into a personal/professional relationship. The work we did upfront around our working relationship has been invaluable.
Aside from the lubricants that just recently launched, do you have any plans to expand the business beyond condoms and lubricants?
Yes! We're launching 'post-play' natural wipes this fall.
Why do you think it's important for woman to take more control of their sexual health by making more conscious decisions?
I think, especially when it comes to lubricants, choosing a natural option is critical. We can all relate to the reality that when we're not happy down there, we're not happy anywhere. Our body ecology is delicate and using products that have ingredients that mess with that can really take a toll on your overall health.
Lastly, fill in the blank! My boyfriend doesn't want to use a condom so I should ___________.
Dump him! Just kidding, if your boyfriend doesn't want to use a condom then you both need to get tested and make sure that you're both clear that you're in a monogamous relationship. After that you need to talk to your doctor to determine what other birth control method is right for you, and then you can get back to doing what's natural.
When you make your first purchase, you get 15% off and Sustain offers free shipping! No excuses people, here's to having more safe and sustainable sex.
Share
Tags
RELATED POSTS
COMMENTS